Natural peanut butter made crunchy 240g is made from 100% fresh peanuts so it always preserves the delicious flavor from peanuts. In addition, peanuts are grown in an organic farming without fertilizers or chemical pesticides.
Buy Now:
Benefits of natural peanut butter made crunchy 240g
Source of Energy
Peanut butter contains carbs, protein, and fat – all in good balance. This is a great way to boost your energy.
Antioxidants
Because peanut butter comes from peanuts that have high amounts of antioxidants, peanut butter also has many nutrients like p-coumaric acid. This antioxidant can lower risk of stomach cancer.
Vitamins and Minerals
Another reason why natural peanut butter made crunchy 240g is a favorite because it contains lots of vitamins and minerals, including vitamin E, B3, and B6. It also has folate, copper, manganese, magnesium and iron.
Production process of natural peanut butter made crunchy 240g
The procedure of Dat Butter's peanut cultivation follows the principle 'no chemical fertilizers, pesticides, herbicides before and during cultivation".

Households or individuals involved in the peanut supply chain for Dat Butter only use some of the natural insecticide to provide adequate nutrition for peanut plants and prevent them from some pests and diseases
Where is the natural peanut butter produced?
Raw materials are grown in many regions of Vietnam: Cu Chi, Vinh Long and Ba Ria - Vung Tau.

Manufacturing factory: Binh Duong province, Viet Nam.
What are the dishes made from natural peanut butter made crunchy?
Natural peanut butter made crunchy can be eaten immediately after opening the lid, spread on bread, served with pear or apple.

Making smoothies (banana, apple smoothies…) peanut milk.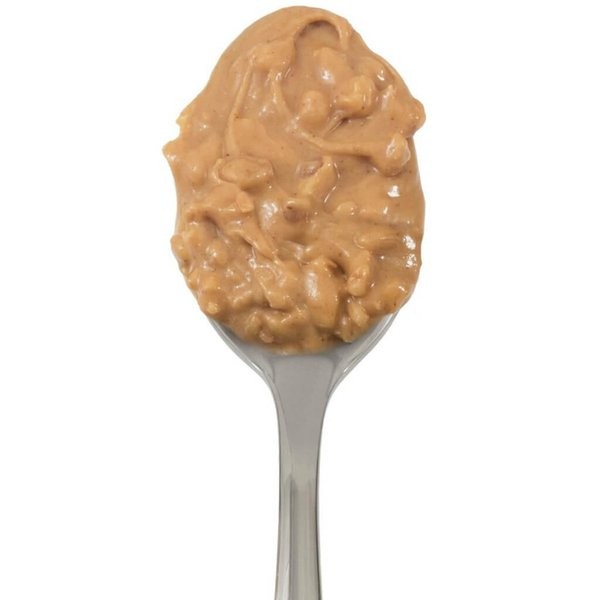 Cake made from peanut butter
Storage conditions of natural peanut butter made crunchy
After using, customers should close the lid tightly and store the product in a dry, cool place, avoid the sun. (Without refrigerator)

The quality of peanut butter preserved in the refrigerator and the room temperature is usually the same.
About Đạt Butter supplier
ĐẠT BUTTER is a social enterprise in Vietnam aiming to help farmers improve their income by educating them to grow and produce natural peanut butter.
Group of providers by Happy Trade: Group 2
Certification