Juliet organic apple is a non-GMO local fruit grown in South France according to EU organic standard. It's crunchy, juicy, sweet and good-smelling, a little sour, and firm. It also looks beautiful with light red color and shiny skin. Juliet apple is very nutritious and safe for health.
Price:
Sell price <3kg: 130.000 VND/ 1kg

Sell price ≥ 3kg: 120.000 VND/ 1kg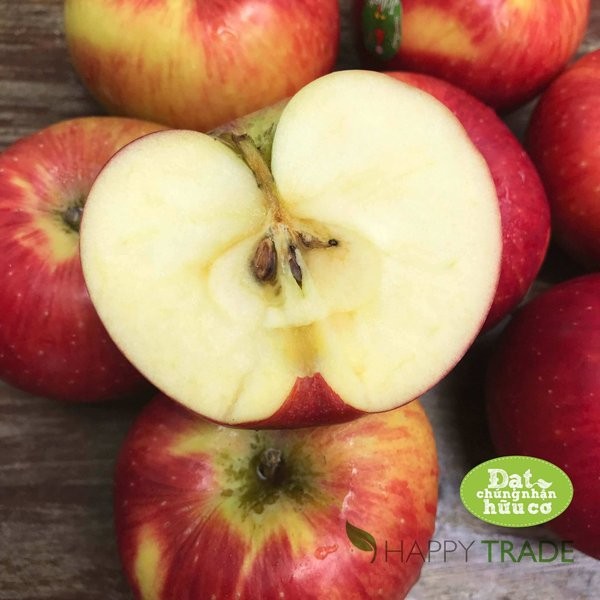 Nutrition content: 200g apple has carbs; 4g of fiber; 14% vitamin C; 6% potassium; 5% vitamin K, many vitamins and minerals such as vitamins A, E, B1, B2, B6, manganese, copper, polyphenol, pectin, collagen, elastin, etc.
Benefits of Juliet organic apple
Supporting weight loss, reducing bad cholesterol
Eating apples before meals makes you feel full longer and reduces appetite thanks to high content of fiber and water, supporting weight loss. It's also rich in pectin, collagen, elastin, antioxidants, helping reduce bad cholesterol and prevent many diseases like atherosclerosis, heart disease, Alzheimer's disease, cataract and aging skin, and boost the immune system.
Good for cardiovascular and digestive systems
Juliet apple contains polyphenol, a powerful antioxidant that reduces blood pressure, protecting the heart and preventing stroke. The high content of fiber in this fruit reduces bad cholesterol in the blood. It's also prevent constipation, diarrhea, abdominal pain, flatulence irritable bowel syndrome and hemorrhoids.
Reducing the risk of diabetes type 2
Eating an apple every day reduces the risk of developing type 2 diabetes by 28% compared to people who don't eat apples. This fruit contains polyphenols that help prevent tissue damage to beta cells in the pancreas, helping balance your blood sugar.
Production process: This fruit is grown according to EU organic standards, imported and preserved in accordance with the process of the official importer of Juliet organic apples into Vietnam.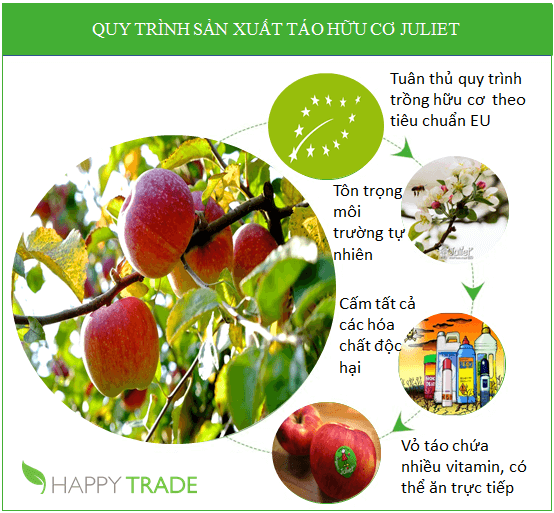 Local area of production: South France
How to enjoy Juliet organic apple?
Making juice, pies, or eating fresh fruits
Fresh apple and apple juice.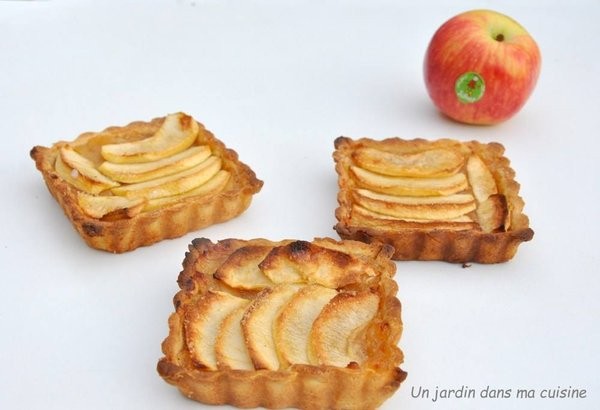 Delicious apple pies.
Supplier Information
Juliet organic apple is supplied by Prome Juliet in France, an association named "Friends of Juliet" founded in May 2005. Currently, the association has 110 manufacturers, specializing in the cultivation of Juliet apples according to EU organic standards on a 340-hectare area in South France.